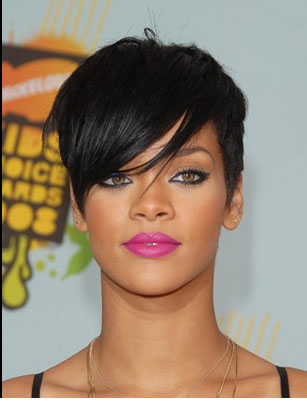 I love Rihanna...I think she is beautiful, and she has bold style, that's edgy, yet glam-pretty! And I lvoe that she plays around with make-up....her eyes are always usually light on the lids and darker below....very sul-tray!!!
I love this look!!! It's like a modern day, edgy, pin-up look! Clean eye...sharp cat eye, winged liner......clean, pouty mouth.....gorge-ay!!!! (everything's gonna end in "ay" tod-ay! ha ha)
Rihanna doesn't care what people think...we shouldn't let people other people that have tongues that are ready to make fun of anything different, because they are too scared to be "non-boring"....ruin it for us making us scared to get things said to us like:
"nice shoes!"...."where'd you get that shirt"..."what is on your face?".....
OUR RESPONSES: I like it....and that's all that matters!
It doesn't matter what kind of car we drive, how big or small our house is, what we wear, how we talk, what color our hair is, if we are covered in tattoos from head to toe, what we look like....
no one has the right to judge us...
and if they do...they need to get the telephone pole out of their own eye...before the try to pick on a toothpick in our eye...
God gave us the creativity to think they way we do, put outfits together the way we do, and the desire to like something....if you want to wear a pink tutu and cowboy boots....do and wear it with confidence...and if anyone says anything to you like: "oh, nice tutu"....say "thanks, nice jeans!"....hee hee hee....or if they say "what are you wearing!?!"...and that sass-tone we all know....
"helloooooooo, a tutu!"...ha ha ha ha....or "same thing as you...just fancier sorts of grape leaves to cover the body"....hee hee
(for some reason...and I even say it in my video....the hot pink lips I did, looked the same color as Rihanna's in real life, but in the video and pictures...it looks light pink...argh!)
I love this look!
Be bold..be free...and don't let anyone stomp on you being you.....be the boldest, most confident you....and if y ou don't feel confident...fake it! Pretend you're going to meet up with me, we're going shopping....and we don't care what people say about how we dress.....Let them stare!
(i know kids can be mean in school, so if you're in school.....know that I used to wear weird outfits....and I got told mean things....but I didn't care, I'd show up with my bright red baggy jeans and white doc martens the next day too)
May the Fashion & Beauty Force be with you! ha ha ha ha
enjoy the video...try it and make it yours!! huge love all my lovelies....you beautiful and wonderful...and I cheer on any fun and creative shoices you make today!!!! Let's go and paint the world "non-boring"!!!! love you all!!!! kandee