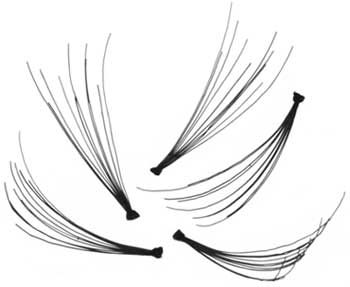 add some secret glamour to your eyes...with some individual lashes...
they don't look as "theatrical" as a full set (even though I think they are fun too), and you can bet that most celebs like Kim Kardashian, Nicole RIchie, PAm Anderson, and many more, NEVER go out to a public event without a full set or 2 on......some do a full set of thick lashes, with a full set of long ones on top...it feels like you have 10 pounds of eyelashes on!
Ardell Medium & Short LAshes (i get mine for super cheap at Wal-Mart)
I like Duo Lash glue (the clear kind is "longer lasting") or Ardell lash glue
you can use tweezers to put them on, but I like using my fingers
I put about 3-4 medium length ones on the outter corner and then do 3 or so towards the top of the eyeball (the center of the eyelid)
remember not to glue them to the lashes themselves (this will damage your lashes and make it really painful to get them off!)
just glue them to the skin right above the lashes, so it's like it resting on top of the lashes but glues to the skin, as if they were growing out of yout eyelid...
if you mess up, just pull it off and start over!