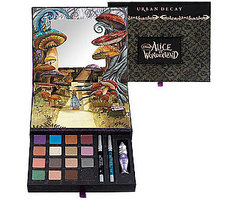 oh my! oh my white rabbit! Get ready to glam it up at a tea party..with URBAN DECAY's fabulous new book of eyeshadows...that is celebrating Disney's Alice In Wonderland movie....
the girls at Urban Decay, sent me this adorable little treasure to show all of you before it comes out!!!! It came in a box with a little bottle of Godiva White chocolate sauce with a tag that said: DRINK ME...a little "giant" pill case, with mints...and a beautiful mug with a "K" on it! It was like an adventure just opening it!!!
I immediately smacked these colors on my lids....these colors create the most beautiful smokey eye....and just wait til I play around with the colors!!!! This is an AWESOME deal to get all these colors, the eye primer, 2 eye liners....and all these beautiful, pigmented colors!!!
Thanks so much to Kat at Urban Decay for sending this to me! I was like a little girl at Christmas opening this!!! I love it!!!
YOU CAN GET ONE TOO!!!! This little gem comes out JANUARY 15th at
www.urbandecay.com
...
get yours before they are all gone, like a white rabbit, down a rabbit hole!!!!
and here's some of the ALICE in WOnderland looks I've done already!
have a fun and dazzling day, kandee