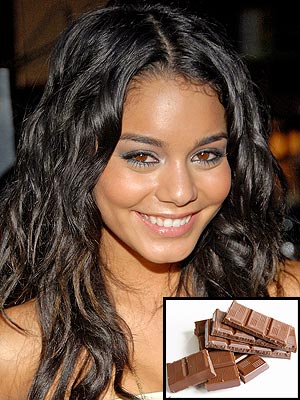 Vanessa Hudgens wore this look to promote High School Musical 3, I wore it to go do make-up for a fashion show....(i don't know why there's chocolate on this picture! ha ha ha)  but whatever you are going to do...you're gonna look super, sultry, and sexy....this would be great for a date night...prom look, anytime...really.
Here are the dazzlings you're gonna need:
Face: watch my vid on getting flawless skin....
I used NAUGHTY FEATHER cream eyeshadow from BENEFIT all over eye to brow bone
(it's a light pinky-peach shimmer)
LUSCIOUS LANI eyeshadow (from the SHADY LADY PALETTE from THE BALM)
(a light pinky-peachy shimmer)
GREY UTILITY eyeliner from MAC (just plain grey) as a primer for shadow
EASY WHEEZIE from (SHADY LADY again) a light silvery blue 
dark grey or black shadow like PRINT or NEHRU from MAC or any grey really
black eyeliner to line waterline (i used SMOLDER from MAC....Revlon makes a good black too)
medium cool brown eyeshadow  ( I used COQUETTE from MAC)
or OMEGA if you are more fair (a really contour color...light ash brown)
JET-SETTING JENNIFER eyeshadow from the SHADY LADY KIT....a light shimmery goldy- with hints of light celery green
MASCARA L'oreal Double Extend Tubes in BLACK
CHEEKS: POSEY cream blush from MAC (a bright, hot pink-bubble gum color)
or you could use DOLLY from MAC (a bright pink with a goldy shimmer)
SHELL cream highlighter from MAC (a light pearly-peach highlighter)
higlighter in 10 from BENEFIT (a light pink highlighter )
LIPS: lipliner BUERRE from MAC (a nude rose color)
lipstick FABBY from MAC (i love this color....a light pinky color with gold shimmer)
lipgloss in VIVA GLAM VI Special EDITION (from MAC) a pink-rose color with sheer golden pearly shimmer