me (Kandee AKA Lil' Dulce...dulce means "candy" in Spanish...ha ha ha) as a Chola
WHAT is a CHOLA?
Chola's & Cholo's go back for hundreds of years, but the Cholo/Chola style really started in the 1940's, in Los Angeles. Funny songs like, "Lean Like a Chola" sing about the "sharpie pen" eyebrows and "thick eyeliner"! It's got big bangs, thin eyebrows, dark lined lips, big earrings, bandanas, freshly pressed Dickies pants, white tank tops, top buttoned plaid shirts, woven military style belts, and sometimes some gold name jewelry!
(My mama is half Mexican, so nobody better say anything mean....I'm not worried about here, but Youtube....is hte king machine of mean comments!)
My Nana, my mom's mom, was even born in East LA. And my great grandma was from Chihuahua, Mexico.
Gwen Stefani has represented Chola style for years!
Lady Gaga in her Telephone video shakin' her yellow hair to a chola inspired make-up and hair, with an American theme too! Chola meets the American flag!
Jennifer Lopez (J-Lo) as a Chola, living Latina Loca!
Sandra Bullock as a Chola (thanks to George Lopez)
she has classic, chola (cholo, the man version of a chola)...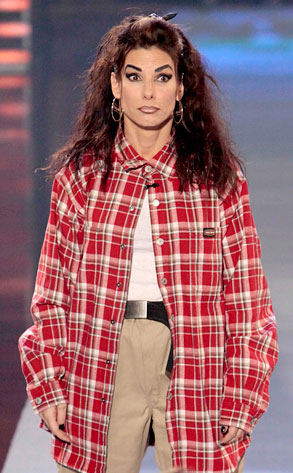 and now, let me show you how to get some Chola looking style in your make-up! Instead of looking like Chola's as a stereotype, look at it as a style that you can draw inspiration from!
Watch and enjoy.....
huge love, kandee uh, I mean, for this, Lil Dulce.....ha ha ha